Quietmind Portraits by Eric Weinhardt
You're having a conversation with a friend when out at a gathering and suddenly a wave hits you. Out of nowhere your heart is racing, there is a tightness in your chest, you feel like you can't breathe, and you have no clue what your friend is saying anymore. Instead now you're in your head thinking, "where is this coming from? Just relax and ignore this, it will go away." It doesn't, and now you're thinking, "what is wrong with me?! Get over yourself and just make this stop!" So you exit the conversation as unsuspectingly as you can, saying you're sick and need to go home. You manage to get yourself home, tears leading the way, contemplating a stop at the hospital because your heart feels like it's going to explode. You pop into bed, throw on some Netflix, and wonder what in the world just happened and beg for it to go away. Welcome to the world of panic attacks.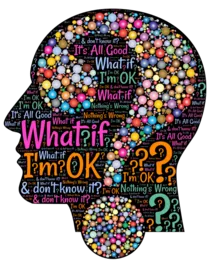 Now imagine going to the next social gathering without pre-planning your exit. Imagine being able to acknowledge the existence of those worry thoughts and swiping left! Imagine trying new and exciting things without worrying about knowing every little detail and potential outcome.

Anxiety is exhausting! And as you can see from up above, it can be really debilitating and a very physically real experience over seemingly nothing. You probably hate it when people tell you, "it's all in your head", "stop worrying so much", or my favorite "just relax." So I promise never to tell you "just relax" in response to your anxiety. I've felt the panic attacks, therefore I know what it's like to have anxiety, and better yet, how to manage through it.
Anxiety does not have to take over your life if you learn how to accept it and respond better to it. Together we will figure out the annoying messages that anxiety is telling you and learn more effective ways to respond to the barrage "what if" questions. We will also learn ways to prevent your body going 0-60 panic mode every time you get a worry thought.
Want to learn more? Feel free to either set up a free 15 minute phone consultation or head over to The Mindful Minute for some more information!